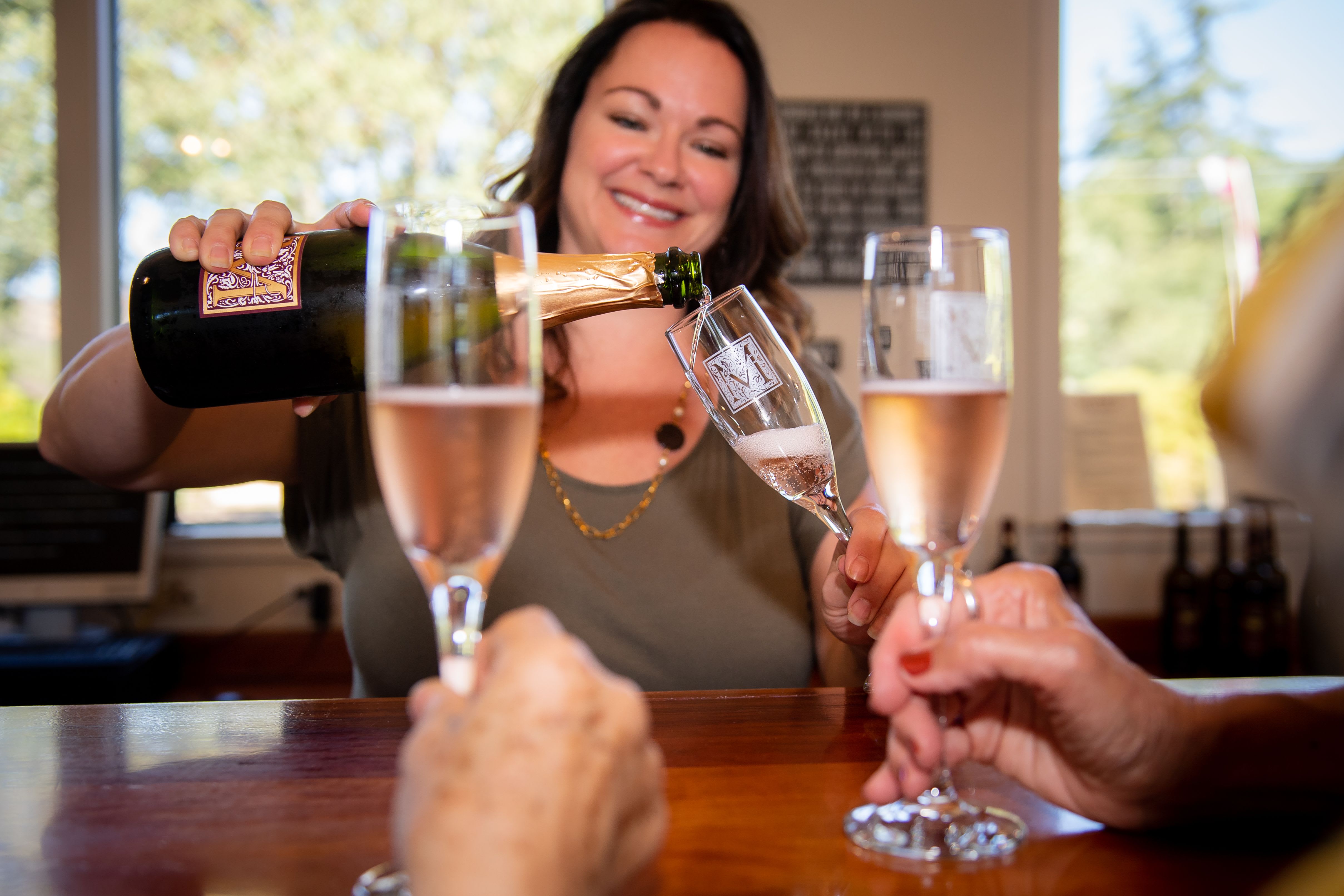 Half-Day Wine Country Tour from San Francisco
HALF DAY TOUR
Half-Day Wine Country Tour from San Francisco
TOUR DESCRIPTION
Duration of the visit – approximately 6 hours
Knowledgeable guide to the California wine country
Live expert narration (English)
Visit and wine tasting fees at two wineries
Golden Gate Bridge Photo Stop
Your satisfaction guaranteed
Meal
Guide tip (recommended)
MORE INFORMATION
Note: The Transportation Security Administration still requires masks at transportation hubs, including airports and train stations, as well as on public transportation, including planes, trains, and buses.
We will start the trip with a crossing of the famous Golden Gate Bridge. Even in the fog, the views from this San Francisco icon over Alcatraz Island, Fort Mason, Angel Island, and Tiburon will take your breath away.
The passionate wine guide accompanying the tour will add expert information and an unparalleled passion for California wineries. When it's time to leave, sit back and relax as we embark on a 1-hour journey through the golden hills to the California wine country.
We'll kick off the wine country with a visit to a family-run winery. Winemakers will proudly describe how they combine their traditional winemaking techniques with a blend of sunshine and fresh San Pablo Bay air so the grapes become plump and the wine ripens to perfection.
Once you have tasted this fabulous region, we will move on to a higher and cooler microclimate where you will learn to appreciate the difference a few miles can make. In a wine estate, capture the unforgettable sights, sounds and tastes of one of the best wine regions in the world.
After finishing at our second winery, your tour of the California wine country will begin its journey back to San Francisco. A panoramic view of the City by the Bay awaits you. End this incredible day with a second crossing of the Golden Gate Bridge on the way back to San
TOUR ITINERARY

12h00 – 12h30
Hotel pickup from Hilton Union Square and Zephyr

Views of the San Francisco skyline from the Golden Gate Bridge
1:00 p.m. to 2:00 p.m.
Drive to Sonoma County, the birthplace of California's wine industry

Learn about wine tasting and the history of the wine region
2:00 p.m. to 3:00 p.m.
In a family cellar, learn how the wines are made

Visit and tasting with the winemaker
3:30 p.m. to 4:30 p.m.
Taste the wines of your next winery

Pose for selfies as you stroll through the vineyards

Pick up a bottle to savor in San Francisco
4.30 p.m. – 5.30 p.m.
Incredible views over the San Francisco skyline

Photo stop under the Golden Gate Bridge
6:00 p.m.
Arrive in San Francisco in time for dinner
Read other useful articles about the wine region in our BLOG.
Important information
How long is the tour?
This tour lasts approximately 6 hours
Which vineyards are we going to visit?
We visit two wineries, located in the Sonoma Valley. Each stop at the cellar lasts approximately 45 minutes. We've narrowed down the list of wineries to those that offer the best California wine country experience to our customers. We have privileged partner cellars that we like to visit but the cellars will vary from day to day.
Is wine tasting included?
Yes, all wine tasting fees at both cellar stops are included on this tour.
What happens if I don't have or forget to bring a valid ID?
In the United States, it is important to have valid ID if you wish to consume alcohol. If you forget to bring your valid ID, you will not be allowed for the wine tasting.
Shall we stop at the Golden Gate Bridge?
Yes, there will be a photo stop opportunity at the iconic Golden Gate Bridge (weather permitting).
Is this tour suitable for children?
We do not recommend bringing children under the age of 6 on this tour. Alcohol consumption is prohibited for those under the age of 21. Please bring a valid photo ID.
Do you offer this tour in different languages?
The visit is commented in English.
Is it a guided tour?
Yes, the tour is guided with an English speaking guide.
What is the average temperature?
The weather in the Pays des Vins varies according to the season. Average temperature data is below.
SUMMER MONTH (JUNE, JULY, AUGUST):

Medium high temperature: 83 ° F / 28 ° C

Medium Low temperature: 55 ° F / 13 ° C
WINTER MONTH (DECEMBER, JANUARY, FEBRUARY):

Medium high temperature: 58 ° F / 14 ° C

Medium Low temperature: 40 ° F / 4 ° C
What should i wear?
Temperatures vary depending on the season and time of day in the Bay Area, so we recommend that you wear layered clothing should temperatures rise or fall unexpectedly. We do not recommend wearing shorts or sleeveless shirts in winter. However, we realize that everyone is acclimated to different weather conditions so we trust you to make your own judgment. For footwear, we recommend comfortable walking shoes, such as regular tennis shoes, sneakers, or boots with rubber soles and soles. During the summer months, hiking sandals can be worn when touring, but high heels, beach flip flops, and other open-toed shoes are not recommended.