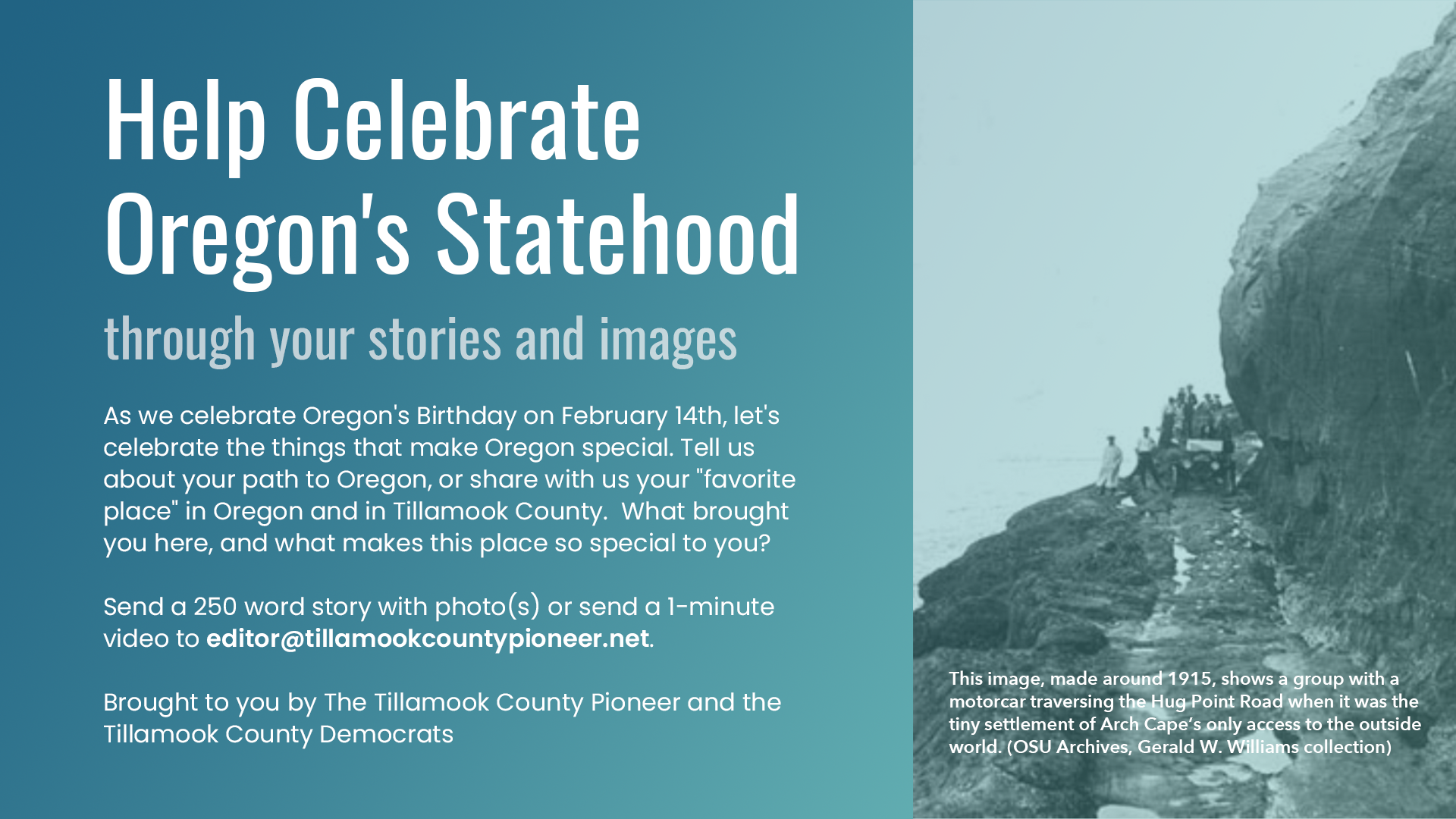 It is ironical ! – Tillamook County pioneer
EDITOR'S NOTE: Fred Bassett presents a year-long project collaboration with Tillamook County Pioneers and Tillamook County Democrats. Kicking off on Oregon's birthday weekend – February 14 – Project Celebrate Oregon will be a regular feature here on the Pioneer. Celebrating the State of Oregon – Through Stories and Pictures – As we celebrate Oregon's birthday on February 14, let's celebrate the things that make Oregon special (and especially this area on the upper left edge called Tillamook County.)
Much like the early settlers of the Oregon Trail, tell us your journey to Oregon, or share with us your "favorite place" in Oregon (and Tillamook County.) brought him here and why do you think this place (or other places) in Oregon are so special?
It can be a story (approximately 250 words), accompanied by photo (s); or send us a video (1 minute or less).
We will collect these stories and share them regularly on the Tillamook County Trailblazer website and social media, Tillamook County Democrats website, and other displays throughout 2021.
Send your stories and photos to [email protected] or [email protected]
If your video is too large to email, we suggest you use WeTransfer.com, a free large file transfer service.
If you have any questions, please email Pioneer Editor Laura Swanson at [email protected]
Here's Fred's compelling story on his family's journey to Oregon – tell us (or show us) yours!
By Fred Bassett, President of the Tillamook County Democrats
Sunday February 14, 2021 is Valentine's Day, or of course. But, it also marks the 162 birthday of the state of Oregon. With everything we've been through together over the past year – the pandemic, the wildfires, the most controversial and politically disturbing election of our lives, we – the Democrats of Tillamook County, in cooperation with the online newspaper Tillamook County Pioneer – thought it might be fun to celebrate Oregon's history, its people and its places. Does this sound a little ironic?
Maybe it is. When I think back to my own family history in this place we call home, which is closely tied to the history of Oregon itself, the irony – a literary device in which there is a contrast between the expectation and reality – is very much at stake.
My great-great-grandparents, Joseph and Mary Myers, packed their five young children in a covered wagon and set off with 37 other pioneers on one of the most poignant and disastrous adventures in the history of the world. 'Oregon Trail. This was in 1860, a year after Oregon gained statehood.
Although all seven of my immediate Myers family made it to Oregon, their number was more than half of those who survived this historically tortuous journey. In fact, their family was the only one who tactfully survived the events that unfolded near the Idaho-Oregon border in the fall.
I would love to tell their whole story here, but this is a topic for a much bigger space and a much longer time. Let me summarize by telling you that the Myers family survived:
• A siege of three days and nights of their encircled wagons;
• A heart-wrenching escape under the cover of darkness leaving behind their wagons, cattle, food and all their belongings;
• A 90-mile hike along the banks of the Snake River carrying their children on their backs while under constant attack;
• And, more than a month camped on the banks of the Owyhee River with so little food that they were forced to exhume the bodies of those who had died to make soup for food.
They were eventually rescued, moved to the Willamette Valley, and lived to tell the story I just mentioned. Joseph and Mary's first child in Oregon was my great grandmother Geneviève.
The ironic part of this story is the fact that although it has been shared and celebrated in news reports, military documents, at least one book, and in the oft-told story of my own family, none of these sources have 'argued or even implied that our own story of survival, colonization and success is also the story of the devastation and annihilation of the Bannock people.
The Bannocks, across the three-day siege that devastated the wagon train of my ancestors, had celebrated the traditions of buffalo hunting in the mountains of Montana, salmon fishing in the waters and tributaries of the Snake River, trade missions with other First Nations in this area, and a rich cultural history of pottery and beading dating back perhaps 10,000 years.
By the time my ancestors, albeit innocently, traveled to this region, the Bannocks had been reduced to marauding bands forced to depend on begging, theft and betrayal for their survival. The damage – by disease and devastation of buffalo herds – had already been done. The story goes, however, that one of the results of the actions which almost brought my own family history to a standstill in September 1860 was further attacks on the Bannack people, culminating in the Bannock Wars of 1878 which practically sounded the death knell for this once great nation.
I say this because, in our celebration of what Oregon means to each of us, we must recognize and honor those whose history of Oregon extends far beyond our own short history. My family will continue to celebrate the courage and foresight that brought our ancestors to this wonderful land. But I can't, don't want to just pass these stories on without acknowledging and apologizing for the blindness that allowed my ancestors to see only green pastures, clean water and cool futures, while stumbling. on the corpses of the proud who preceded them.
Although my family history is only recent in Tillamook County, we all also have a lot to correct in our account of the history of this region.
Celebrating Oregon is important, perhaps more important than ever. But, let's all do our part to make sure we tell the whole ironic story.