West Bengal: Malda cyclist Sayantika's dream of meeting CM Mamata Banerjee comes true | Kolkata News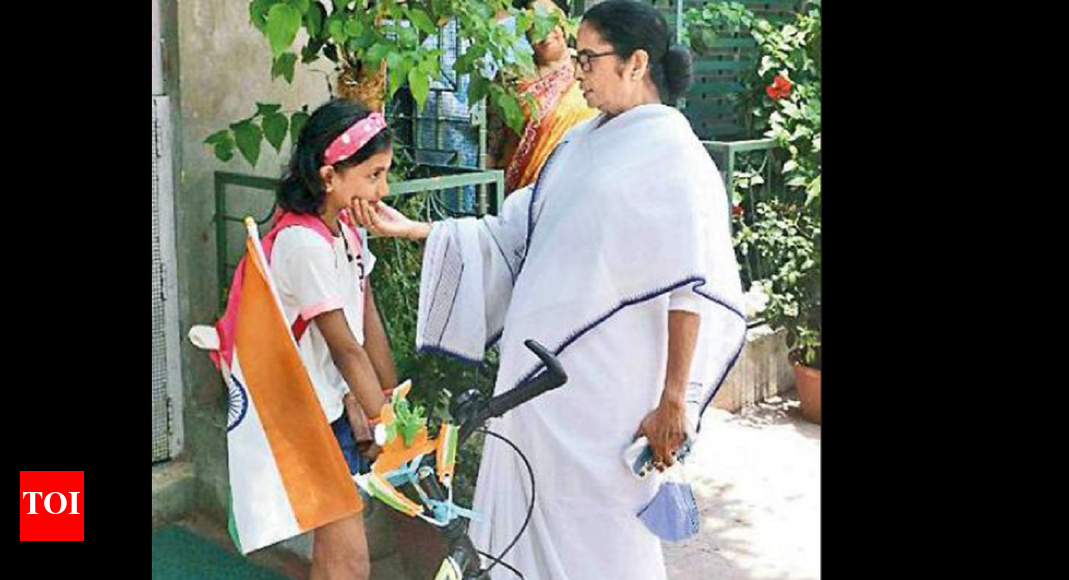 Sayantika, 8, with CM Mamata Banerjee.
MALDA: "I still can't believe it. Was it a dream?" whispered Pradip Das, the father of 8-year-old Sayantika, who was greeted by CM Mamata Banerjee and spent nearly half an hour with her. On the way back to Malda with his wife and youngest daughter, Das was the happiest person in the world. "All credit goes to my daughter," he said, as the Class II student beamed with delight.
Sayantika had written a letter to the Malda District Magistrate, expressing his wish to go to Kolkata on his cycle to thank the CM for projects like Kanyashree, Sabuj Sathi and others, which had benefited his family immensely. TOI had reported the news and Banerjee had asked the district administration to make arrangements for his visit.
"On Wednesday we were informed that the CM wanted to meet my daughter but she was not allowed to cycle the whole way. Instead, tickets were booked on the train for the three of us carrying the bike "We arrived in Kolkata on Thursday morning and were accommodated in a guest house in Gol Park. From there my daughter rode the bike to the CM's residence in Kalighat," Das said.
The CM was waiting at his door. "Mamata di came out of her house to receive us. She took my daughter inside to show her her office, her room and even her place of worship," Das said.
"I thanked the CM for all they have done for us," Sayantika said. "As I had planned earlier, I gave her Malda amsatta with a Malda mango sapling. She immediately planted the sapling at her house," Sayantika added.
FOLLOW US ON SOCIAL NETWORKS
FacebookTwitterinstagramKOO APPYOUTUBE